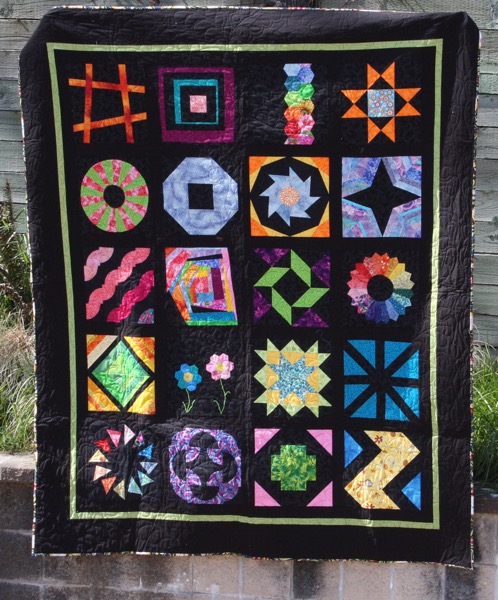 Back in 2012-ish, I got started on several Block of the Month projects. Maybe I was just excited to start things. Maybe I underestimated how much time I'd need to sew multiple sampler blocks every month and/ or overestimated how much time I had to devote to quilty projects. Both, probably. Eventually, I had to focus on working on one at a time, finishing my "Bloggers BOM" in 2013 and the "Half Square Triangle BOM" in 2015 (it looks like I never got around to announcing that finish). It seems appropriate that the "Craftsy BOM" was finished in 2017. The Gallery does show that I've begun and finished 11 quilts between 2012 and now, though, so perhaps I should avoid any grand conclusions from these details.
I used stash fabrics for this quilt, buying only extra black for the sashing and borders and then a backing/binding fabric. Most of the blacks used in the squares came from fabrics leftover after making shirts for Ian. Some of the other fabrics have stories, too, like the yellow in the lower right which is leftover from a dress I made for Caitlyn when she was in preschool and the blue in the hollow octagon nearer the top which is the same as the lining of my sunhat.
Special thanks to my friend Marissa and her long-arm for the quilting!
I think this officially means that I'm down to only one quilt in progress. It's another Block of the Month of sorts in that it was intended to be a quiltalong sort of thing based on Vintage Quilt Revival at the fabric shop I used to work at. The quiltalong sort of fizzled out, and I put mine away for a while when I left the shop. I dug it out just last week, so maybe there's another quilt in me after all.
Save