A few years ago, I stopped keeping up with the blog, especially when it came to writing up all the various homeschool outings. Now that I'm trying to resume writing on a more regular basis, the backlog of happenings is so enormous it's tempting to say never mind. But here's a tossed salad of recent outings in an attempt to get back on ye olde bloggin' horse. (Yes, metaphor mixing is a specialty around here.)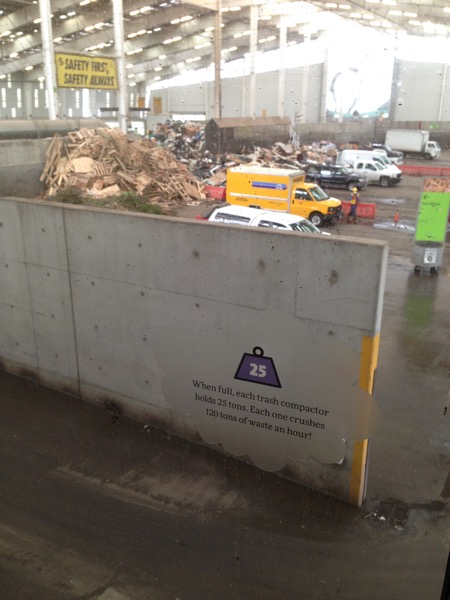 Our triad of science students followed up a lesson on bacteria, fungus and the role of both in the Great Cycle of Resources with a field trip to Seattle's South Transfer Center. The facility is shiny and new (finished in 2013) and has to be the cleanest, most organized dumping facility I've ever seen. I tried to impress this upon the kids with reminiscences of both the dump we took the garbage to when I was growing up and the dump I visited in Ensenada (Mexico, 1995): the smell, the seagulls, the endless hills of garbage, the tractors pushing it around, the human scavengers. Seattle is one of the nation's leaders when it comes to reducing contributions to the landfill, with an aggressive recycling and composting program. The city's population is pushing 3/4 million people and yet we manage to send only a single daily one-mile long train to the landfill. That seems like progress when I think back to the amount of garbage at the dump for my small rural childhood community.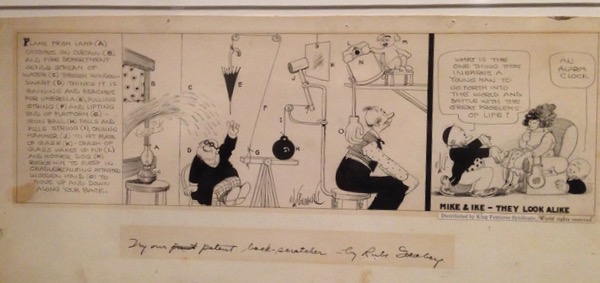 Caitlyn's FIRST Lego League team is back in action. We've gotten an early start in the hopes that the kids will be able to complete more of last season's robot game missions before the challenges for this season are announced. The discoveries made will translate just fine. The team had an outing to the newly rebranded MoPOP to catch the Rube Goldberg exhibit. Funny how we now think of Rube Goldberg as an inventor of convoluted contraptions when he was primarily a cartoonist. The exhibit displayed a lot of his work, but sadly they had only two Goldberg machines set up. As a cartoonist, his work frequently commented on current (sometimes) political events; unfortunately, the museum didn't do a very good job of providing context so I felt rather befuddled reading most of it. (I don't think Goldberg had a very nice opinion of women. There were a couple of cartoons suggesting that women would be poor additions to Congress since they'd spend all their time critiquing each other's hats.)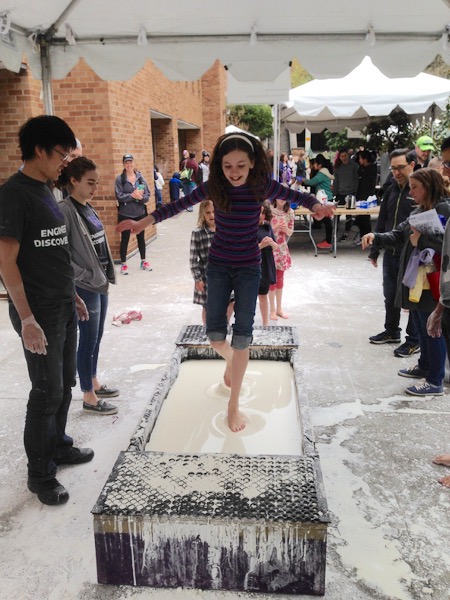 We braved the weather for a weekend outing to UW's Engineering Discovery Days. As far as I can tell, various science and engineering departments come out annually for some hands-on show and tell to combat the idea that science is old and stuffy. Caitlyn reviewed the 6-page program in advance, so we knew exactly what it was she wanted to see/do, like this opportunity to "Walk on Water." The vat is full of oobleck (cornstarch + water) which oozes when you interact with it slowly but acts like a solid when you impact it with force. Run or jump across the oobleck and your feet stay reasonably clean and dry. Move slowly and those college students standing by have to scramble to pull you out.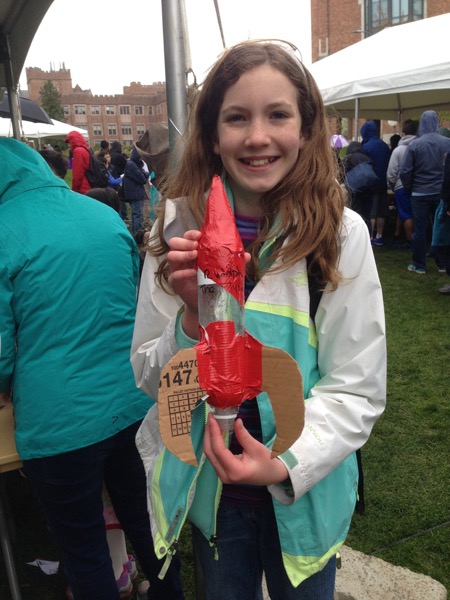 Engineering Days also had an "make your own ice cream in a ziploc bag" activity (strangely popular even though the day was rather cold and wet) and enough liquid nitrogen on hand that demonstrators would freeze and shatter suggested plant material and assorted rubber balls. They even managed to float a magnet over a superconductive material. I think Caitlyn's highlight, though, was designing this water bottle rocket ("Rudolph, the Flying Claw") at the "SpaceX Feeder Program" booth (it was a hand-written sign so I suspect it was more college joke than actual recruiting site). After launch, Rudolph flew about half a city block before colliding with a tree and startling a day-dreaming crow. When she turned her bottle in for recycling, she got lots of compliments on her curved fin design and kudos for nearly hitting a bird.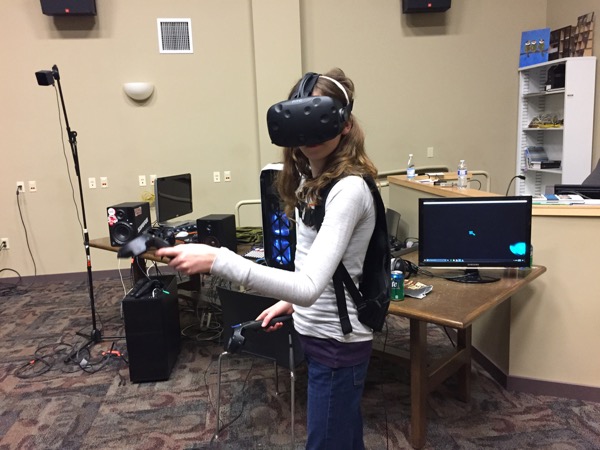 Caitlyn's been getting curious about virtual reality, so she and Ian have been attending a number of local VR community events. This was the expo portion of a hackathon. She got to suit up and test out a handful of new (like, created in the last 36 hours) projects. The hackathon followed a meetup and has since been followed by a games fest. Caitlyn runs into increasingly familiar faces at these events, people who usually remember her. Being enthusiastic and nearly 12 will do that, I suppose, and being an enthusiastic tech-interested female is a bonus. She says she thinks she might like to design settings and assets for VR experiences someday.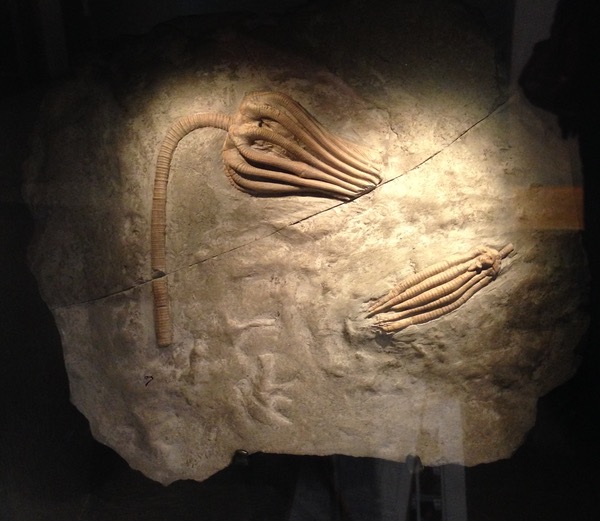 The Burke Museum is a small museum of local natural and cultural history. They have fossils large (dinosaurs, a mammoth, the Sea-Tac sloth) and small (these Crinoids are sea lilys from when Spokane was beach-front property, and they are animals, not plants, despite the name) and a collection of Native (a stolen sea lion now on long-term loan) and cultural artifacts from the various cultures now residing in the Pacific NW. At an "educational tour" at the Burke, they bring out items you can touch (shark teeth, rodent skulls, star maps, model canoes) which always makes museums more interesting. As a bonus, we somehow managed to talk Emmy (who inconveniently is usually in NYC) into joining us, so Caitlyn also got to catch up with one of her favorite grownups.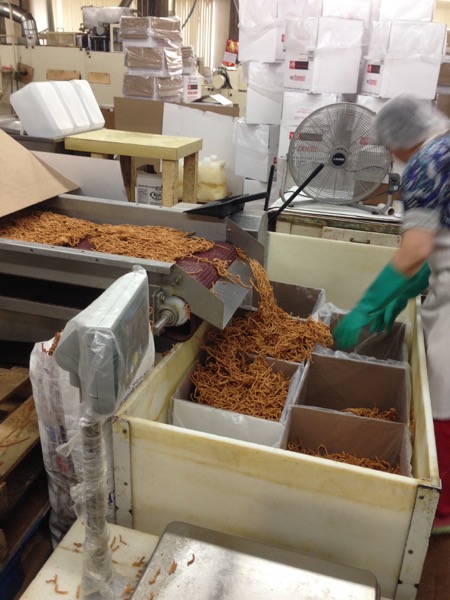 Most recently, we joined a group for a tour of the Tsue Chong noodle and fortune cookie factory in the International District. It's a surprisingly small place for a company who has spent 100 years making the noodles served at most of the PNW's Asian restaurants. We saw chow mien noodles deep-fried, fresh rice noodles folded into pillowy pound packages, and the wicked four-blade saw for cutting 18 inch dried noodles down into something that can fit into a reasonably sized pot. The rice products have only two ingredients and the wheat noodles have just four. My favorite discovery was that all the little bits of wheat noodle debris created by the saw are collected, ground up into flour, then returned to the beginning of the noodle-making process.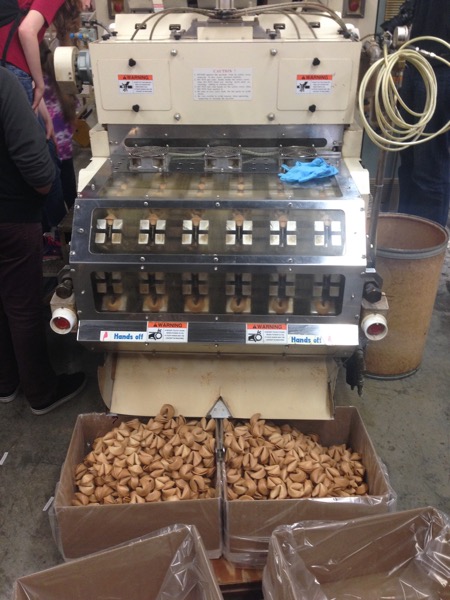 The fortune cookie process is slightly more complicated, with more ingredients but fewer discrete steps in the process. The Rose Brand Company has 4 of an original 9 fortune cookie making machines originally purchased in the 1980s (after making the cookies by hand for 30 years!). Each of these machines makes 25 cookies each minute, 10 hours a day, 5 days a week. Together, that's 300,000 fortune cookies! The "new" machine (above), purchased in 2000, makes 125 cookies every minute, outproducing the other four machines by 75,000 cookies every week. Warm fortune cookies are tasty.
So that's a little glimpse of what we've been up to in the last month. We're hurtling toward the end of the school year landmark (an assessment test and probable high-ish tea). And then, good heavens, we'll have a seventh grader.
Save
Save
Save
Save