After talking about it for several years, last fall we finally followed through on one of our parenting goals: international travel with Caitlyn at an age when she'd be old enough to understand and appreciate what she would see and experience but young enough that she's not too cool to hang around with her parents. It's a big world out there (and we only managed to see a small portion of it this time) and getting to see some of it firsthand is good for building empathy, experiencing diversity, and appreciating your own privileges. It's harder to "other" people when you've met some of them.
We flew out of Vancouver (non-stop international flights are hard to get from within the States) and into Glasgow, where we stumbled around sleep-deprived while trying to appreciate a display of knitted doughnuts and/or the Art Deco architecture until we could make a plausible case for a local dinnertime. We rented a tiny Citroen car and drove the long way round to Edinburgh (if you just want to get there, it's about a four hour drive; we took close to a week.) I've wanted to see the Highlands for 20 years or more and there's really no good way to do it via public transit.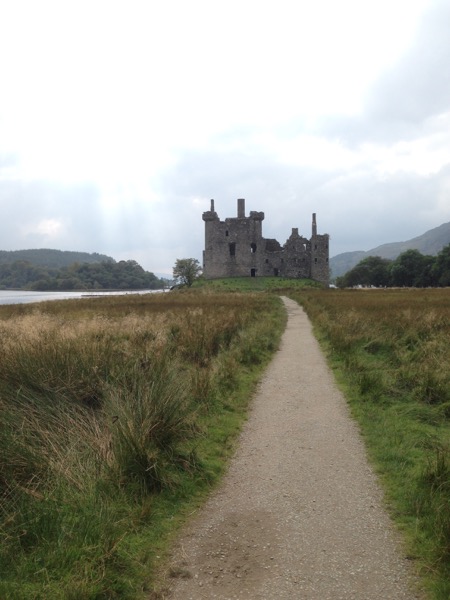 Scotland has castles and wide-open spaces. We wandered around the ruins of Kilchurn Castle (a former Campbell summer home), Old Inverlochy Castle (which apparently once disappointed Queen Victoria), and Urquhart Castle (where we were told stories about the local river people in exchange for news of the Pacific Tree Octopus), before visiting Stirling Castle and Edinburgh Castle, both of which are in better repair and occasional use. We waved at sheep, picnicked loch-side, admired the geology (there are rocks in Scotland which are related to rocks in Appalachia), looked for Nessie. I drove on the "wrong" side of the road, rediscovered my love of UK breakfasts, and spotted a few unfaded heather flowers.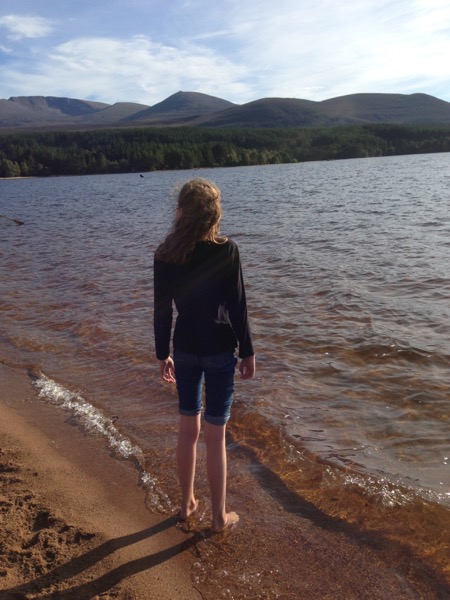 (Caitlyn getting her feet wet at Loch Morloch.)
One of the best parts of our trip was our hosts. Most of our Airbnb accommodations were homes, often with families (we rented the guest room for the night). We stayed in Findhorn, an intentional community north of Inverness, with friends of our extended family. Our hosts on Loch Tay had an 8 year old son who was thrilled to show off his Legos to Caitlyn while the adults sat in the kitchen and discussed current events, food, business, and cultural exchange. In Edinburgh, one of the household cats was happy to receive all the attention Caitlyn wanted to dispense, and I talked backyard gardens with our hostess. Getting to visit with real people officially outside of the tourist/hospitality industry was a lot of fun and a trip highlight.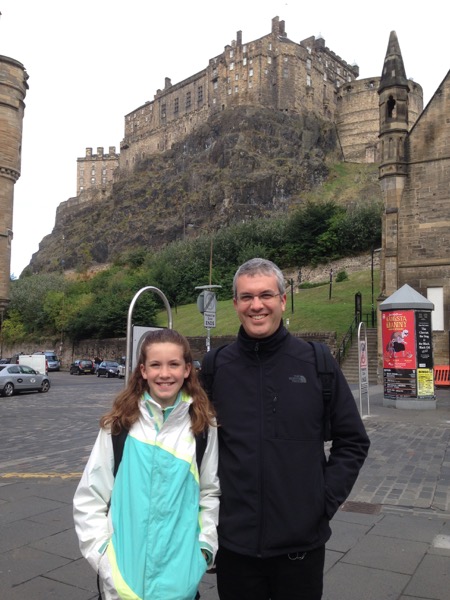 We turned in the car in Edinburgh (I managed reasonably well on the narrow rural roads, but city driving on the left side of the road seemed like asking for trouble). We walked the Royal Mile (which is much the way it I remember it from England Semester 20 years ago, although the Scottish Parliament building is new), watched the crews packing up the risers from the Tattoo on the Esplanade, and waved to John Knox and Adam Smith. Strange to revisit these places and catch glimpses of my college self. I wonder what memories Caitlyn will revisit in 20+ years. Will she remember the bits of history, the way the buildings seem to grow out of the rock, the mashup old and new in a place that's been a center of human occupation for 1000+ years?
After a handful of days in Edinburgh, we caught a train to London. I love London, although it's hard to say exactly why. It's a big city, with all the chaos of a big city (traffic, hordes of people, dingy neglected corners), but it's also diverse and inventive and old and traditional and constantly trying to reinvent itself. Or at least that's what it seems to me. We stayed with friends, so there were long breakfasts, rambling conversations, show and tell outings.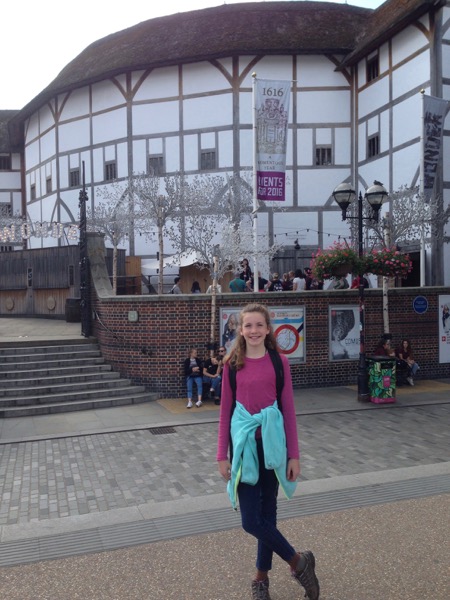 Caitlyn made her Shakespearean mother very happy by asking (enthusiastically) to visit Shakespeare's Globe and then working her way through the self-guided kids' tour. We'd caught a live stream of the Globe's India-flavored production of Midsummer Night's Dream just before we left for our trip (it wrapped before we arrived). For our tour, we lucked into a bit of a technical rehearsal for the next production, Imogen (a "renamed and reimagined Cymbaline"), which included some aerial work, a deaf actor and a pounding hip-hop soundscape. We met up with old friends, dropped in on the Tate Modern (where we caught a backstage moment of exhibit prep with all the lighting rigs on the floor), and did the requisite London tour stops: wave to Big Ben and Parliament, blow minds with the size of Westminster Abbey, nod to Admiral Nelson (who has misplaced his pigeons in the last 20 years) and climb on the lions, watch the honor guard at Buckingham's front door, catch a little sun and climb a tree in Hyde Park.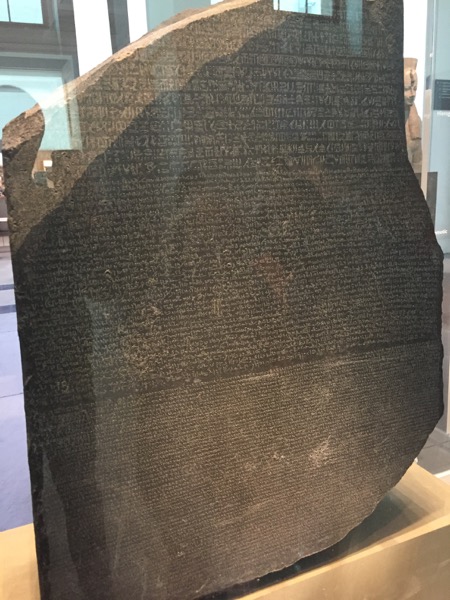 We also made an obligatory stop at the British Museum, one of my requirements for the trip since (modern misgivings about the historical habit of empire and cultural treasure relocation aside) visiting would support previous readings/discussions about ancient history. The Rosetta Stone is bigger than you think, and so are the Assyrian lions. Rameses II liked to put his face everywhere, on everything. We found early natural history writings and specimens in the Enlightenment Room, including assorted fossils, shells, and walls of books. We walked a lot, rode the tube, visited a bookstore and a comics store, and ate at an Indian restaurant rumored to be the most authentic in London. (They didn't ask how many stars of spice we wanted; like wimpy white folks, we gasped and drank a lot of water with that meal!)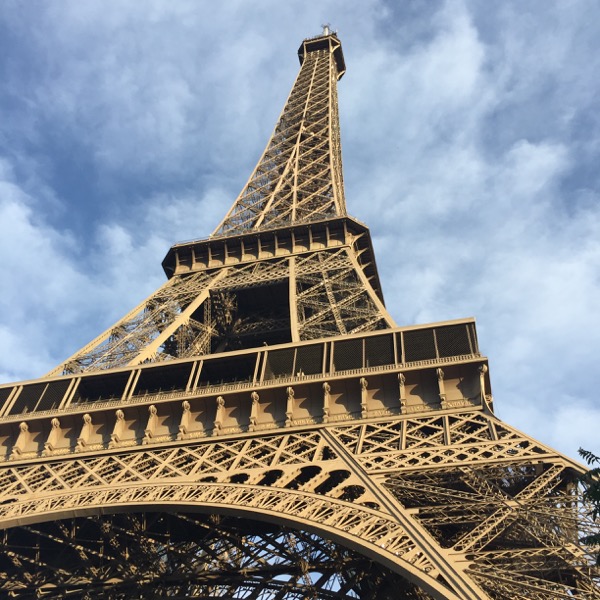 After that, we picked up the pace (not that we had been moving terribly slowly), catching the Eurostar for a Chunnel trip to Paris. Caitlyn said that having the language change around her made her quieter. I found Paris jarring, although I can't imagine that it's the city size that was the source of my disquiet since London is also huge. Eventually, I decided that it was the lack of public greenery. I like street trees and parks. In Paris, most of the green spaces are in the centers of the blocks, reserved for the occupants of a particular building; it makes the streets feel sterile even when they are dirty. Of course, Paris is old. Open green spaces used to be reserved for the nobility, and if the majority of the construction of the modern city dates from the eighteenth or nineteenth centuries, it comes from a time when the prevailing thought was one of humans dominating Nature.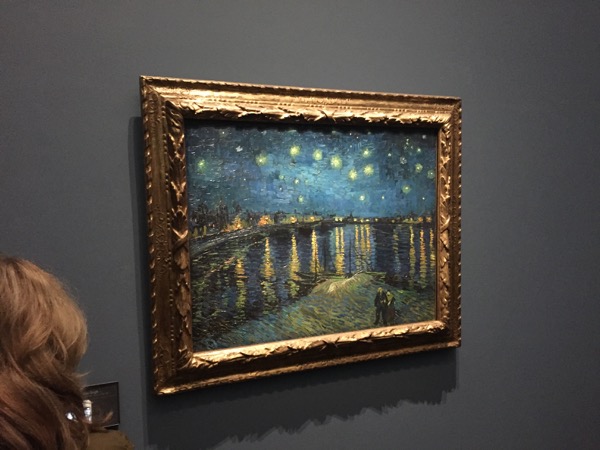 We decided to see Notre Dame, then discovered it was Sunday Mass and so shuffled our way through very quietly, pausing to soak up some church music. Cathedrals can be spacious inside when they aren't crammed full of tombs and monuments like Westminster, where the monuments almost sit on top of each other. We visited the Musee d'Orsay for the Van Gogh (did you know there is more than one Starry Night?) and the Impressionists, at Caitlyn's request, and checked out the Pompidou for architecture, modernism and surrealism. We walked near the Eiffel Tower (where you must now pass through a security checkpoint before they allow you to get close to it), ate crepes twice, and walked by the Louvre and let Caitlyn run up and down the hedgerows of le Jardin des Tuileries. I decided that Paris might be ok if all I did was sit in cafes with bread, coffee and my notebook. Perhaps that's my personal "romantic notion" of Paris, an artistic one instead of couture shopping and romantic interludes.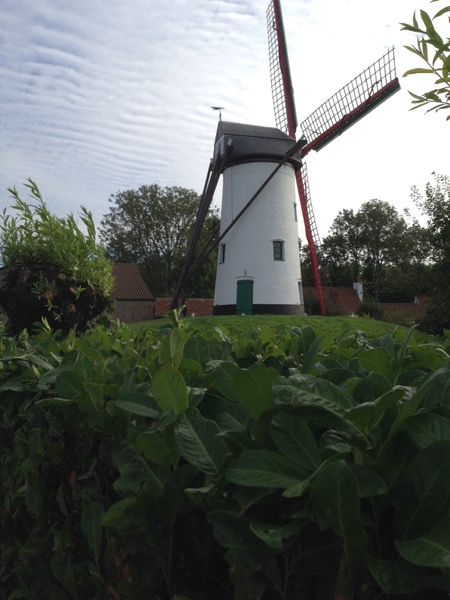 In Brugge, we rented bikes and rode along tree-lined canals through fields that smelled of cows, all the way to Osterkirke for windmills and old churches. We ate true Belgian waffles (and someday I'm going to borrow a waffle iron and try to make waffles with a brioche dough to see if that's close to the original experience) with strawberries and chocolate and, later, authentic frites with assorted sauces. I sat in the sun on the edge of a farmers' market event (with bulbs for sale as well as the usual foodstuffs) in the central square while Ian and Caitlyn climbed the 366 steps to the top of the bellfort, waving at the carillon player as they passed his station. Our hostess had a daughter about Caitlyn's age; the girls hung out in the nearby playground til well after dark discussing school and pop music from the top of a strange pink elephant while the adults talked over "boring adult things." We bought a box of authentic Belgian chocolates on our way out of town, dividing each one into careful thirds as we ate them so no one had to decide which flavors they were going to pass up.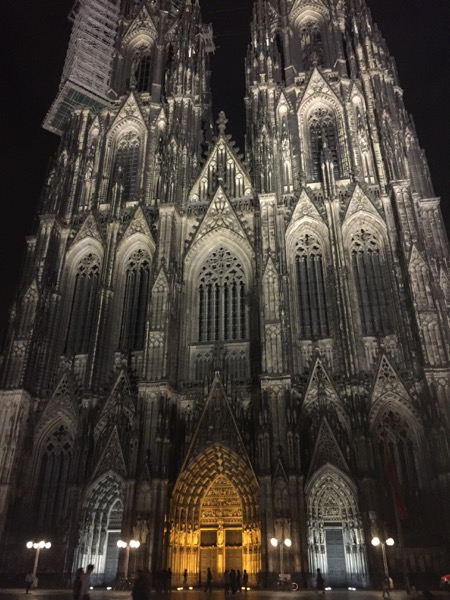 We stopped in Köln and Bad Breisig, our old stomping grounds in Germany, to show Caitlyn where we'd been before she was born. Some things are still the same (the MediaMarkt is right we remember it, and of course, so is the old Roman arch) and some things are different (I missed seeing the grafitti'd banana that used to pop up in the strangest places). We visited the Dom, which turned out to be hosting a concert of a Beethoven Mass, so that's the second "cathedral with surprise bonus music" of the trip. We sat on the floor to listen for a bit. After we left, we told Caitlyn that it was the most comfortable we'd ever been sitting on the floor in the Dom; those stones were cold at midnight on Christmas Eve, 1999!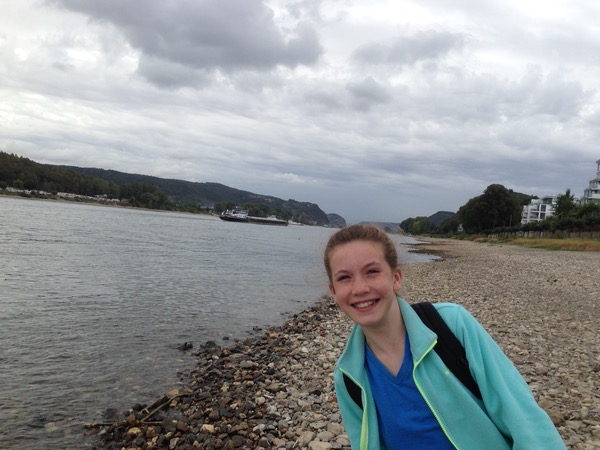 In Bad Breisig, we visited old friends and caught up on projects from the last decade or so, watched the freight ships on the Rhein (just like old times), and had dinner at a restaurant Ian and I used to enjoy regularly (although the clientele has changed and our favorite dishes were no longer available). Then off again, training our way south (in another happy accident) on the first day of a long weekend that was also the beginning of Oktoberfest. The train station at Stuttgart was awash in dirndls and lederhosen. I had random conversations with train-seat neighbors about homeschooling (I think it's illegal in Germany), landmarks, and current events (again – no one we spoke with in Europe understood the US presidential campaigns).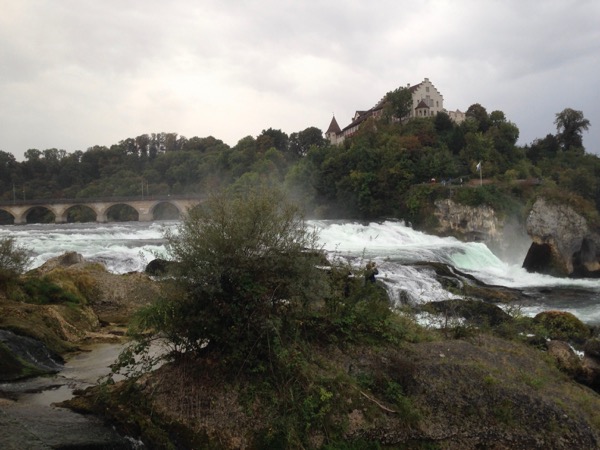 In Zurich, we met up with a friend's family who whole-heartedly adopted us and treated us to whirlwind tours of cute towns, old fortifications, and lots of food. We got to see Rheinfalls at sunset. At nearly 500 feet wide, Rheinfalls is Europe's biggest waterfall; there's lots of water – between 66,000 and 158,000 gallons every second, depending on the season (the flow is lower in the winter wehn the water is being held as snow). But at only 75 feet tall, it felt short to me. My West Coast mountain background must be showing. In the morning, we were off again on a train to Venice, on a winding route through the Alps. The view, glimpsed in bits as we flashed in and out of tunnels, was amazing, so green, with little towns clustered around lake edges. I'd love to see Switzerland again but I'm going to have to move much more slowly to avoid becoming motion sick!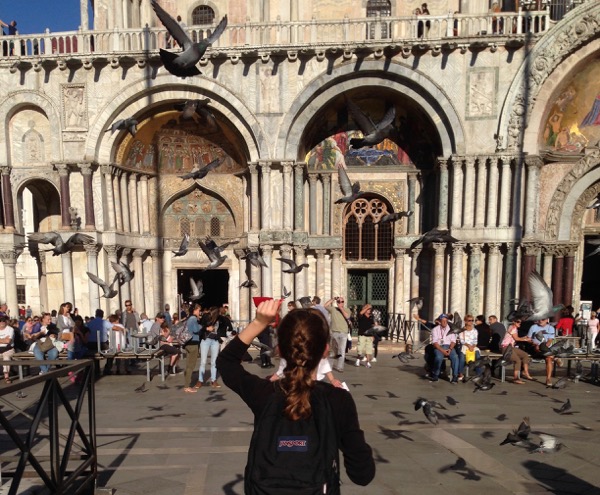 In Venice, we walked from one end to the other, since that's what you do in a city without cars. Why don't more cities go completely carless or at least carless in places??? We soaked up the decaying splendor of the place, visited the Academia del Arte (where there were some newly restored Bosch diptychs on display), rode the vaporetto just because, and squeaked into St. Mark's Basilica before it closed for the day. St. Mark's is full of gold and mosaics to pull your focus up toward heaven, but I love the floor best. It's mosaic'd as well, with a variety of geometric patterns that makes me think of quilting, but it's also sinking/settling unevenly, so the floor is rippled like the water outside.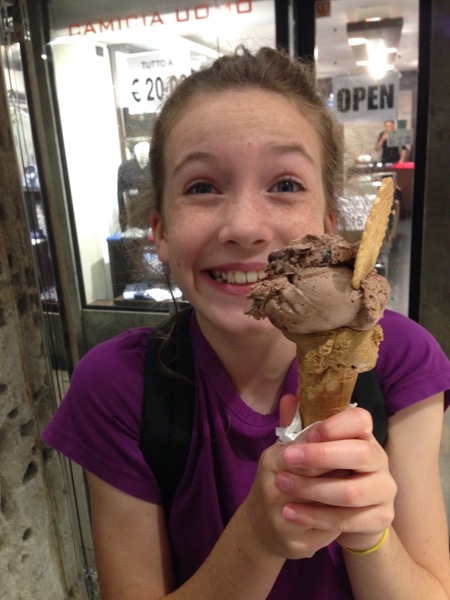 (We also started our evening Italian ritual: gelato every night.)
Venice is delightful for it's adaptations. Lots of vehicular things that we take for granted elsewhere have to be adjusted. Garbage is to be set daily by the front door between specific hours, and it is collected by crews with handcarts, which all have extra wheels to facilitate going up and down all the stepped bridges. Recycling is collected the same way on a slightly different schedule. The carnival of street vendors must set up their daily stations with dollies and garment racks. The ambulance is a boat. The street level of many buildings (including the apartment we stayed in) is deliberately minimal since Venice can flood during extreme high tides; it's easier to just live upstairs than have to move rooms of stuff should an alta acqua be forecast.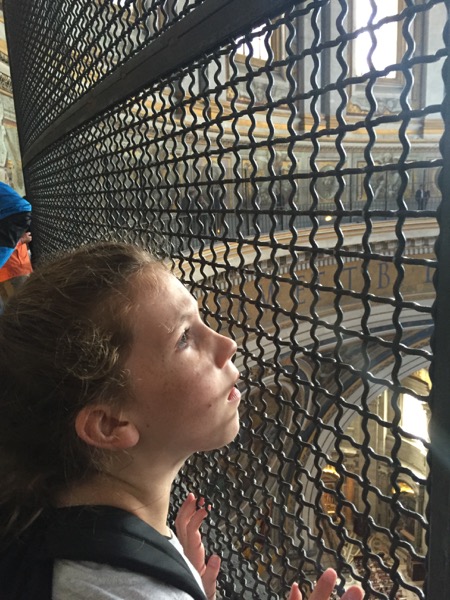 And then, finally, Rome. Spanish Steps, Trevi Fountain, piazzas with statues and fountains and sidewalk dining and street vendors and strolling people. The Forum and paving stones thousands of years old. The Collouseum in the rain, still surrounded by tourists, even in October. The Pantheon, where we confirmed that the floor does indeed get wet due to the open oculus in the ceiling. Caesar (Julius and Augustus and others) in statuary and inscription. The Vatican and St. Peter's, where Caitlyn and Ian hiked up to the top of the dome, all 551 stairs, to check out the view from the top and to admire the mosaics close up. (Painted art degrades in a cathedral – all that candle smoke and incense – so it's all carefully converted into mosaic.)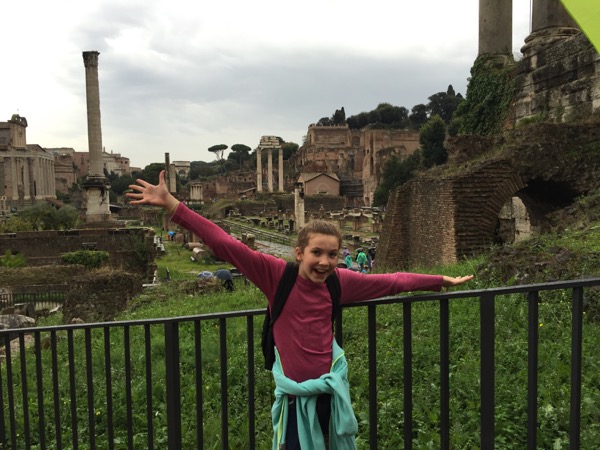 On our final night, we sought out a restaurant somewhat off the beaten path, with sidewalk (or, more accurately, street) seating, for pasta and chianti and peoplewatching. A large truck drove by very slowly, hemmed in by street life, while waiters from several establishments watched, ready to move tables. The restaurant across the way had a display of their food by the door, and we watched tiny birds brazenly steal bits of it away. A woman in crazy-high (from my perspective) heels walked over cobblestones without wobbling or breaking her shoes. In the morning, we loaded our packs, finished our last European yogurt, and caught one last train to the airport.
To summarize: We were gone for 28 days. We visited 9 countries (if you count both Canada and the Vatican), with overnights in 14 cities. Our average daily step count was over 15,000. We took more than 1,500 photos. We interacted in/with 5 languages. We used 8 different modes of transportation.
We'd do it again in a heartbeat.
Save
Save
Save
Save
Save
Save
Save
Save
Save
Save
Save
Save
Save
Save
Save