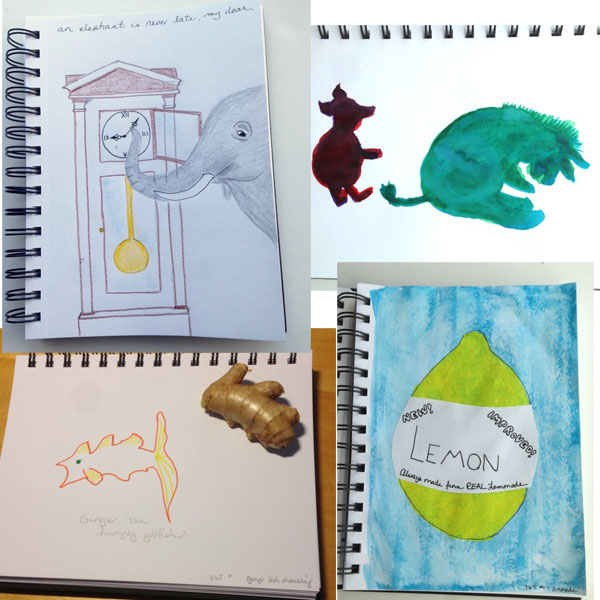 I haven't abandoned the art class I started back in January, but I'm moving incredibly slowly. This may have been intended as a one-year class, but I expect it'll be a three or five year class for me, moving at this rate. Nearly 5 months in and I'm not quite to lesson 25.
But instead of berating myself for my snail's pace, I'm trying to focus on the journey. What am I learning? What am I enjoying? And from that perspective, I think this has been a success. I'm trying new things, and I'm discovering that my non-fabric creative activities don't automatically result in horrible messes. My elephant doesn't not look like an elephant, and I'm rather pleased with my Eeyore.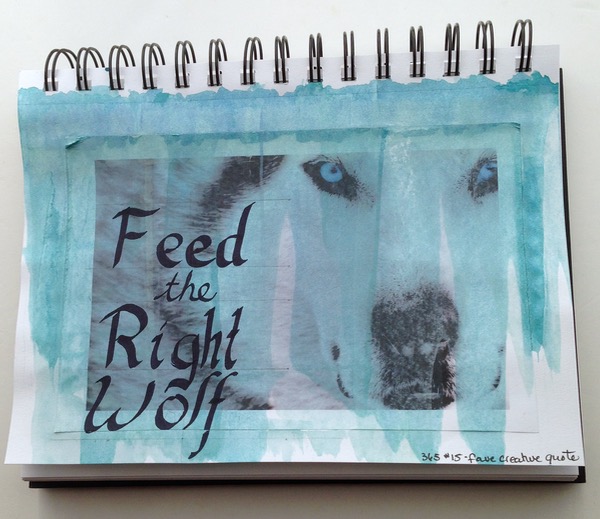 Of these pieces, though, I think this wolf is my favorite. The assignment was simply to share a favorite art quote, and the class Facebook group is full of quotes from artists, about art, illustrated by the various students. This isn't even an art quote, but it felt right and relevant for me. It's the conclusion to a parable (frequently and probably inaccurately attributed to various Native American cultures) about two wolves fighting; one represents the good things (love, trust, courage, generosity, whatever) and the other the bad things (fear, doubt, greed, etc). The wolf that wins the fight is the one you feed. In this context, it's a reminder that if I want to pursue creative endeavors, I have to be deliberate about it.
(I originally attempted to draw the wolf from photo reference but gave up when my sketches tended to look more ape-ish than canine. I ended up printing out my reference photo, gluing it into my book, and giving it a watercolor wash. The text is a sloppy attempt at calligraphy with a felt-tip calligraphy marker. I like some letters better than others.)
Save