I know I've talked a lot about how big this quilt got. But, hello, 10 feet of quilt is a lot of quilt. There was a lot of binding to do. Someone is going to have more quilt than they know what to do with.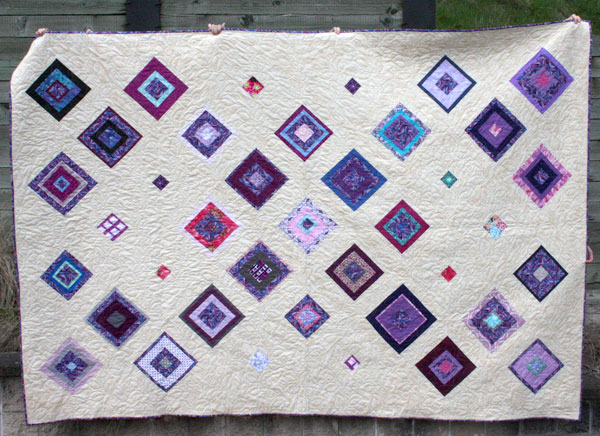 There are three of us holding that quilt up. It's even big enough for our local dinosaur.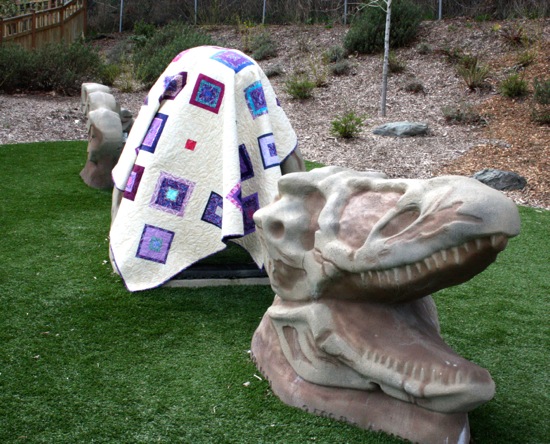 Maybe I've learned to be a bit more precise about my quilt plans. Somehow the size of the thing never crossed my mind while I was dreaming it up. It probably wouldn't have hurt to do a sketch either. I was envisioning something more scattered, with more empty space. With that sort of layout, I could have made two, maybe three quilts. Thank goodness for my friend Marissa and her long arm machine.
But for all that it isn't what I was aiming for, it's going to be hard to let it go. Sew.Quilt.Give. is a charity bee; this quilt was never going to stay with me. Even knowing that I shouldn't get attached, somehow I still do. Finding a home for it has been difficult. I don't want to just donate it to the nearest shelter or something; I want it to go where it will be loved but not (too) abused. (Cue all sorts of complicated feelings about privilege, fate, standards, grace, etc.)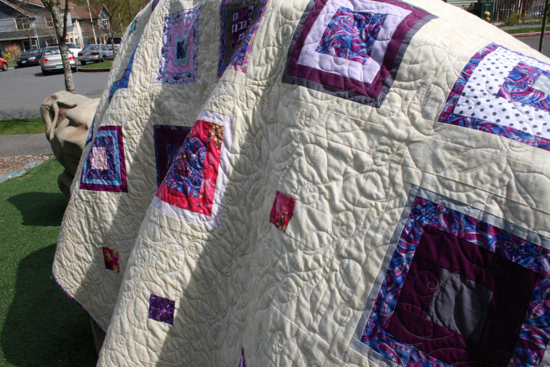 The mudslide up in Oso is less than 2 hours away from me. As of this morning, the official death toll was 36, with 9 people still missing. The slide is a square mile in size, with the debris measuring in at 1,500 feet long by 4,400 feet wide and 30 to 40 feet deep. (Thanks,Wikipedia.)
There were houses there, and they are gone now, with everything in them. Socks and toothbrushes are easy to replace and the Red Cross is all over things like that. What about the memories? The treasures? That tablecloth Great-Grandma embroidered, the one that is on the holiday table every year? The toasting glasses from your wedding? The years of photo albums, the ones you always thought maybe you should digitize but never got around to?
Layers of Hope – Quilting 911 runs a quilt-focused charity that delivers handmade quilts to 911 operators and other first responders. Because of her previous work and because she's based in Washington, someone asked if she'd coordinate quilt donations for the families devastated by the Oso mudslide. This isn't immediate need kind of donating; this is about giving something special and handmade to people who have lost all their own memory-laden special things. It's about giving something to the first responders, the people who run in when most of us would run away.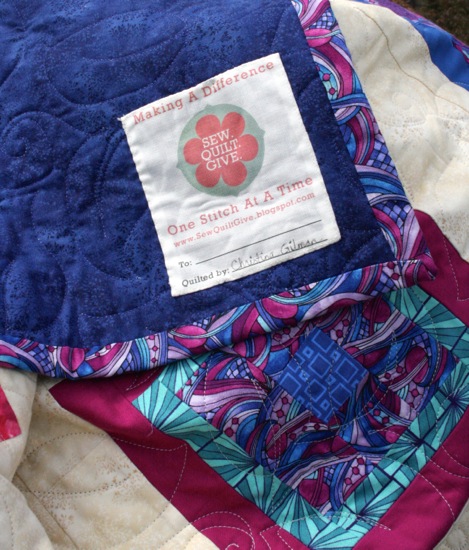 So, that's where this huge quilt (which I kinda wish I'd named something other than "SQGMar13", but I didn't, and there you go) is headed. Maybe I'll get a picture from Jean when she collects donations from Town Square Fabric & Yarn. Maybe the final recipient will Google me based on the label from the back. Maybe I'll just imagine this quilt on a bed or being hauled off to make The Biggest Blanket Fort Ever. Maybe I'll never know.