The theme for the month at the Craftsy BOM this time around is Half-Square Triangles. Instructor Amy Gibson covered the traditional "drawn-line" method (layer your squares, draw a diagonal line, sew on either side, cut apart) and the alternative "magic" method (layer your larger squares, sew around all four sides, make two diagonal cuts). A little funny that I'm HST-ing twice this month.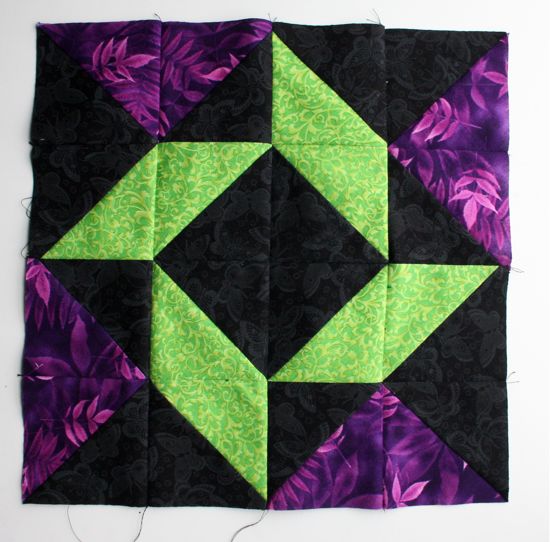 This block is a traditional design, a Windblown Star or a Balkan Puzzle. Favorite block this time around, and perhaps of all four so far (January's are here). I'm also really happy with my color selections, although I can't tell you anything about the fabric. It's all stash fabric for this quilt.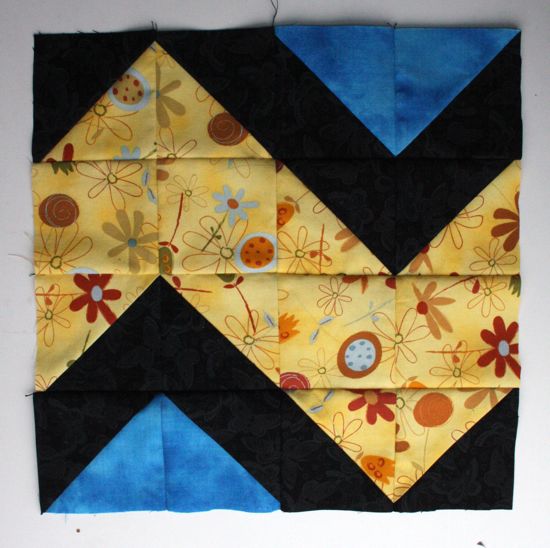 The second block for February is this "Chunky Chevron". Maybe some day I'll make a full quilt with just this block and do something interesting and deliberate with the colors.
I used the "magic" method for the HSTs in the Windblown Star and the "drawn line" method for the Chunky Chevron. I really like how easy the magic/alternative method is; maybe it's just that I've still not found the ideal marking tool, but the drawn line method tends to give me a stuttery line to follow and I feel like I'm distorting the fabric when I'm marking. Lots of people in the Craftsy class say that they feel they get better accuracy with the traditional method, but I'm not sure I can say. I think I'd have to make the same block both ways. I think my points line up pretty well in both blocks, even though my HSTs for the Windblown Star were just a tiny bit too small (instructions should have started those original squares a little bit bigger). So, if my points are less than perfect, is it the HST method or the too-small initial square?
Only one way to be sure: go piece some more!