I learned to crochet when I was a kid. I probably made some pot holders, although mostly what I remember is really coarse yarn (I think it had a high synthetic content) and squares that wouldn't stay square. Interest waned, and I eventually took up my fabric habit instead of a yarn habit.
But my particular fabric habit doesn't travel well. I don't piece by hand, quilt tops are generally too big to carry along on outings, and the embroidery and cross-stitch I do isn't something I can do while in conversation. I needed small projects that I could pick up and put down easily, that weren't really bulky, that my hands could do while my brain did something else (talk to someone, watch Caitlyn at a playground, etc). So, I came back to crocheting.
None of which explains why I've chosen a couple of times now to crochet a blanket. Hats, scarves, wrist warmers, shawls, even an abandoned pair of socks – these are all relatively small, portable projects. Blankets get big.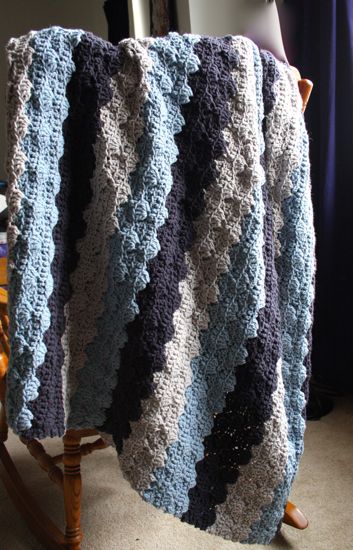 Like this one, which is just a smidge shorter than I am and about twice as wide. It took a bit more than two years to finish, mostly because it became unwieldy and difficult to take places, which sort of defeats the whole purpose of crocheting as a portable project.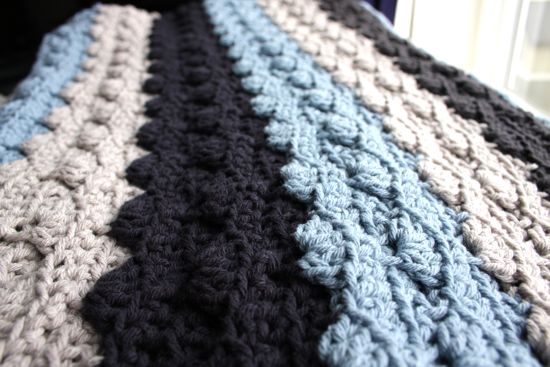 The yarn is Cotton Ease by Lion Yarn, in Stone, Lake and Charcoal, which is a strange name for a color that's more a navy blue than black. The pattern is something which may or may not be called "soft shells" (it was a free pattern online somewhere), which I may or may not have done correctly. It's a four row repeat that's a bit brainless and results in a blanket that has a definite "front" side. Which seems weird to me. Although quilts almost always have a front and a back, so why the same in a blanket would bother me is strange.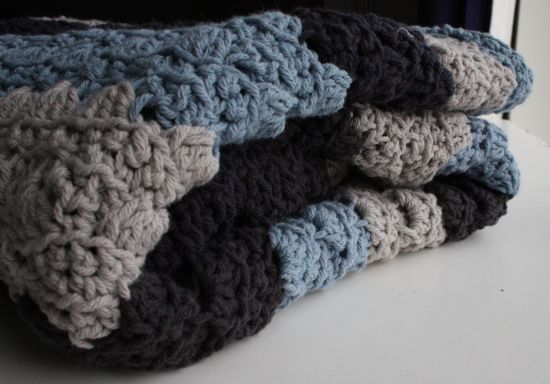 I'm unlikely to swear off making blankets, although the immediate goal is to keep future crochet projects small and portable. Given my wide practical streak, it's unlikely I'll take up crocheting amigurumi. Maybe I should make granny squares next time. Or just stick to hats for Warm for Winter donations.
Save