Used to be, I wouldn't ask Caitlyn what she wanted to be for Halloween, I just put bunny ears on her. In more recent years, we'd have conversations, usually in late summer, about costume options (although I'm fairly certain she didn't request the fairy princess costume, I just wanted to make it), settling on a tiger or a pioneer girl.
Last year's FireCat was a collaboration. This year, it was all Caitlyn.
She started planning back in early September. Her dragon costume went through a lot of mental permutations before taking shape, with big black wings (from her dress up box) and a mask she made from craft foam and glitter glue.
But a costume party demonstrated that her dragon costume wasn't a costume for wearing while playing. So, revision, adaptation. She started by putting on all of the pieces from her fading tiger costume. Mama vetoed the full costume (I made it big when she was four, but that was several years ago) but pointed out that certain elements could be used with other things.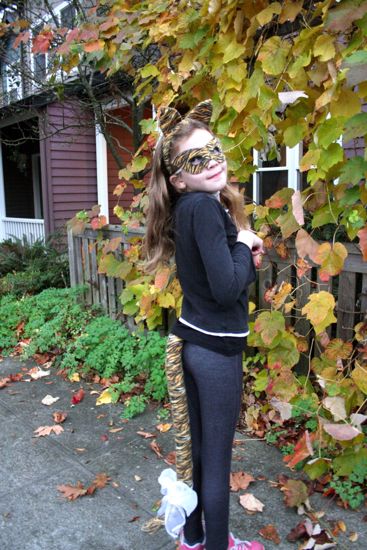 The result: There were originally four kittens in The Aristocats. Some time before the movie opens, Edgar the butler managed to lose the fourth kitten. She came home eventually, after having her own alley cat adventures and spending some time as a witch's cat.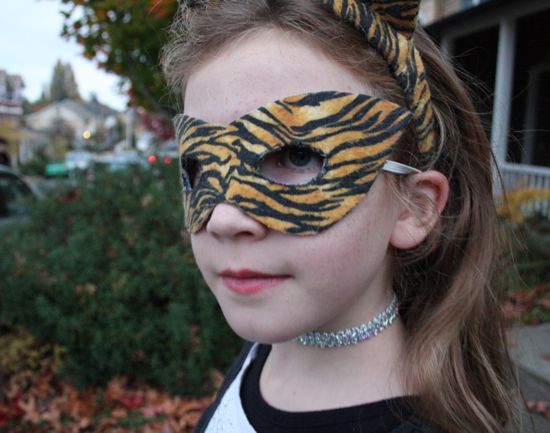 Caitlyn assembled her costume herself this year, either making up new parts or drawing on (sometimes reinterpreting) things she already had on hand. She built her own narrative to answer the ubiquitous Halloween question, "And what are you supposed to be?", referencing The Aristocats to explain her shiny collar and adding the witch to explain our trick-or-treating companions.
I suppose it's another bittersweet parenting moment. She's resourceful and capable and didn't need me at all in putting together this year's costume (pinning safety pins doesn't count). Yay! But I'm that much farther from the little girl she was. And while I don't exactly miss Preschool Caitlyn, I'm reminded that Teenage Caitlyn (and Twenty-Something Caitlyn) is not that far away, really, and I miss my eight year old already.