Back at the beginning of the summer, Stash was approached by the local portion of the Annette Funicello Research Fund for Neurological Diseases for contributions to their silent auction portion of a fundraiser they were planning for later in the season. We put out a call for donations, and I committed to making a quilt. Since the fundraiser's theme was going to be "Beach Party" (referencing the movies that made Ms. Funicello famous), I attempted to go with a beach blanket theme for the quilt.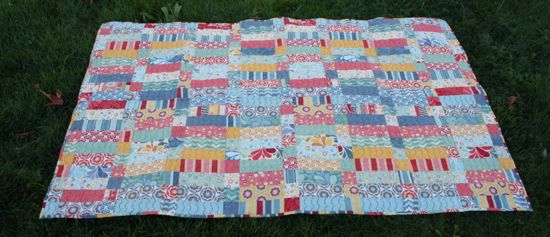 I'm not sure I've quite captured the idea, but this is the quilt that resulted. I used a jelly roll of "Salt Air", piecing the strips together lengthwise in groups of 10, then cutting the strip sets into width-wise (is that a word?) strips again, 2.5 inches and 6 inches tall. These smaller strips-of-strips got put back together, alternating heights. I was going for something striped like an old-fashioned beach blanket but wanted to give it a bit of a twist. The final result is about as long as a typical beach towel and just a little wider. Someone (not me!) could totally put this on grass or sand and work on their tan. Or two people could have a side-by-side picnic.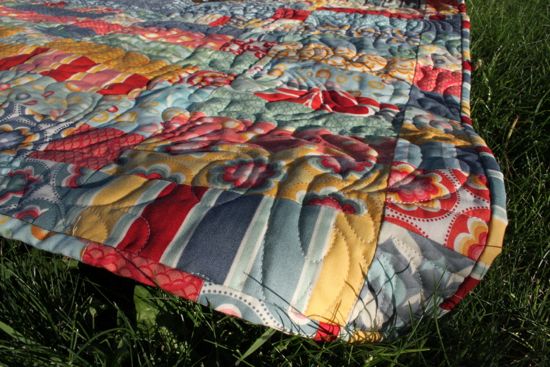 My favorite part turned out to be the binding. I had a couple extra strips of strips which I augmented with strips from the backing fabric. I was a little worried that it'd be weird to sew the binding down with so many seams in it or that it would look strange, but I'm pretty pleased with how this turned out.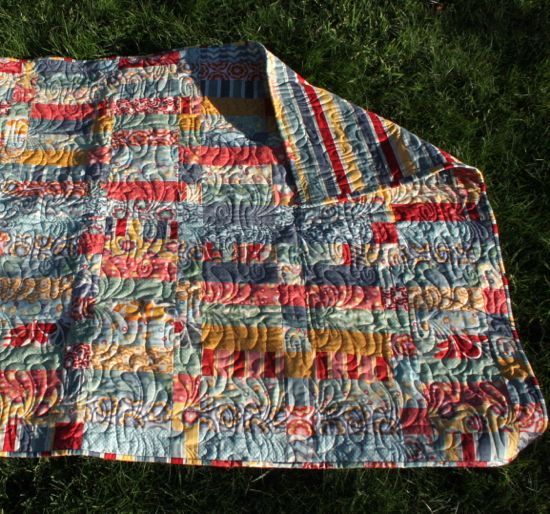 My friend Marissa quilted it for me. Usually I'd insist on quilting it myself but since this was destined for donation (and I was on vacation for part of the summer), I gratefully turned it over to Marissa when she offered. She used a water-splash motif that's just perfect for the beachy theme.
Unfortunately, the fundraiser has been postponed (personal drama in the life of the organizer, I think) but I'm still taking this quilt in to Stash. It'll either be collected for next year's fundraiser or go on sale, I suppose. While I'm not unhappy with how it turned out, it's not really singing for me; I'm having no trouble letting go of this one.
Save