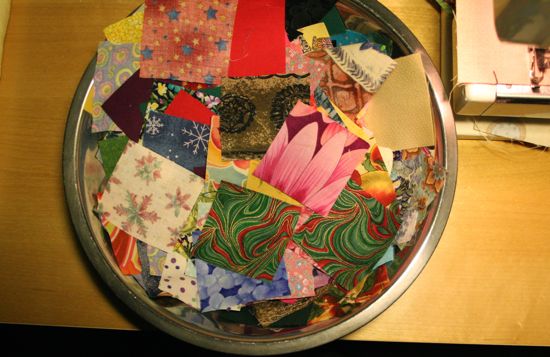 I've stumbled upon a little block swap and have, perhaps foolishly, added one more thing to my sewing queue. The Postage Stamp Block Swap is making scrappy postage stamp blocks (duh!) for swapping. I've gone through my scrap basket and found at least 12 blocks of stamps, reducing the size of the scrap basket pile by about half. (Sure, there's more in the basket, but using all of it would result in blocks that weren't "scrappy" so much as "mostly made from one fabric".)
My other postage stamp quilt from 2011 is about half-way quilted. It needs quilting in the borders, which I've been thinking I would do in loops or curves or maybe in something that could be interpreted as flowers. Which means I need to do some trial/practice quilting on something else first. Which is why the quilt's not done. Or so I tell myself.
Not sure if these new scrappy swapped postage stamp blocks will ultimately end up in a quilt by themselves or if I'll try to combine them with this summer's siggy blocks. I really like this layout option, but the relative sizes of the blocks might make it, well, not impossible but weird. I guess I'll find out in the spring!
Save