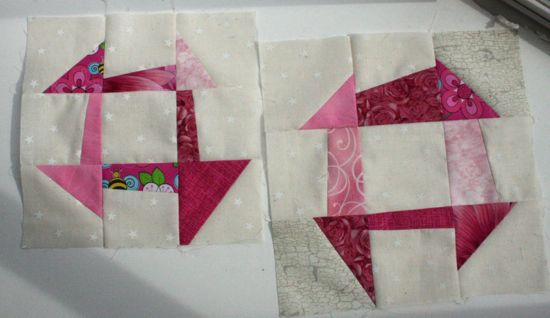 Sew.Quilt.Give. asked for Wonky Churn Dash blocks (tutorial here) in pinks and at any size for February. I'm super curious how this quilt is going to turn out. The Churn Dash is an old (traditional) quilt block and although I think of myself more as a "traditional" quilter (as opposed to "modern"), this one has never really appealed. I think the wonkiness helps, though.
The blocks we made last June have reappeared as a finished quilt. Check it out. I quite like how this one came out: it's scrappy but not overwhelmingly so; I like the diamond chains in the layout; and I even like the different background colors, something I don't like whenever I imagine it. Nothing like seeing it for real!
It's now been a year since I was "queen bee" for Sew.Quilt.Give. I'm so close to being done with last March's quilt, just one more side to bind, I think. (No, I don't know for sure since I avoid unfolding any more of the quilt than is absolutely necessary. I'll just bind it until I'm done.)
But it's my turn to lead the bee again, regardless of what's done or not. I've hopefully asked for something easier this year: scrappy trip around the world blocks (tutorial here) in the blues and blue-greens of the Central California Pacific. Washington's ocean is grayer than I'd like for this quilt, and I'd like no more than a hint of tropical blues. Think pelicans and surfers, sea lions and cypress trees, foggy mornings and mermaid hair.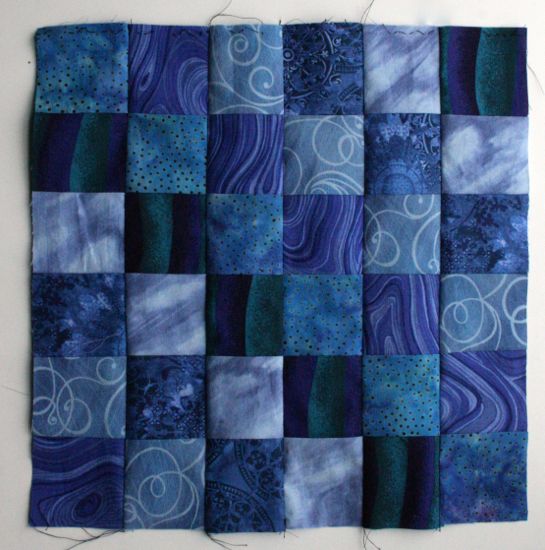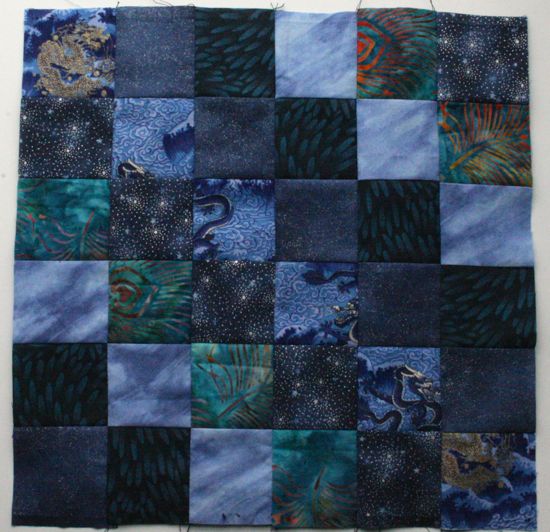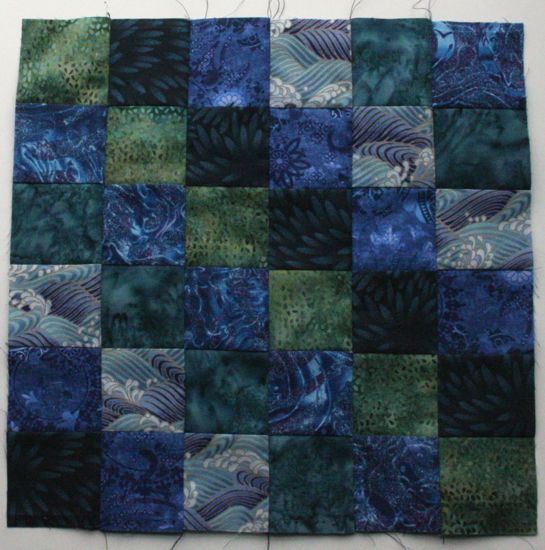 (I took these pictures in a hurry on a cloudy morning – I don't think reality is quite as dark as it appears!)
I plan to lay all the blocks out in a barn raising layout, so the final quilt should be only 5 or 6 feet square, depending on how many blocks I get. That's a perfectly reasonable lap quilt size and way less intensive than last year's epic undertaking!
Wish me luck!
Save
Save