Ok, that's a bit grandiose of a title. But wow, this project got big!



This is the quilt top for last March for Sew.Quilt.Give. March was my month to request block contributions. I asked for square-in-square blocks in a range of sizes with the vague idea that I could float them on point in a spacious background. I'd this quilt from Canton Village Quiltworks in mind, with a touch of this one and this one.
Next time, I really need to bust out the graph paper and turn those vague ideas into something concrete.
I started off putting a creamy neutral border on each block, to get them all to 12 inches. I made a handful of extra blocks with single squares. This brought the block total to 40, at which point I started trying to find a layout.
Again, wishing I'd drawn something first!
Also, forty 12 inch blocks, positioned on point, take up a lot of space. I even thought of making two quilts out the blocks.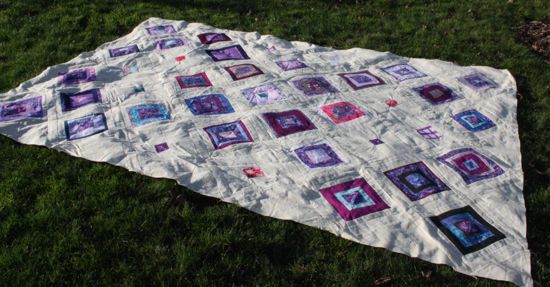 And because I was still trying to get the floating look, I shashed the whole thing, so it's even bigger.
Don't get me wrong, this is a fine quilt. But it's not the quilt that was in my head a year ago, not that I'm really sure now what that quilt was (have I learned to sketch out designs first, do you think?), so I'm a touch disappointed.
On the other hand, the quilt is getting closer to finished (I hope to have it quilted by the end of the month) and it will be a quilt big enough for a queen size bed. All Sew.Quilt.Give. quilts are destined for charity. Do any of my local readers know of a reputable charity who would be interested in a quilt for a teen or adult? I feel sort of silly handing this off to a children's charity…
Save