Back in June, Stash featured some lovely large scale dahlia fabric. I thought the fabric might make a fun version of Amy Butler's Liverpool. I like to think I was mostly right.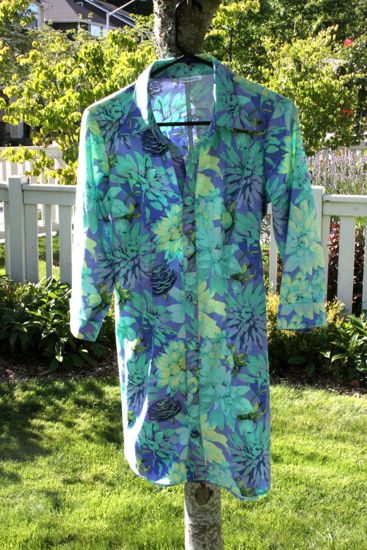 I made the tunic length (the pattern can work up as a shirt, a tunic, a short dress or a long dress), lengthening it 3/4 inch to put the waist at the right spot for me. I didn't make any other adjustments.
The pattern is well written, with detailed descriptions of each step. I'm a bit of a novice when it comes to shaping garments even though I'm not exactly a beginner seamstress (Caitlyn doesn't need much shaping yet and most of what I've made for me for me has been of the long and loose variety). While I didn't need all the details, I could imagine someone who has little sewing experience managing this pattern fairly easily. I found the dart instructions particularly helpful, much better than those from the Big 4, which have an annoying tendency to assume you know what you're doing. The only part I had any trouble with was the cuffs on the sleeves, but I think that had more to do with the lateness of the hour when I was working on them, not the pattern.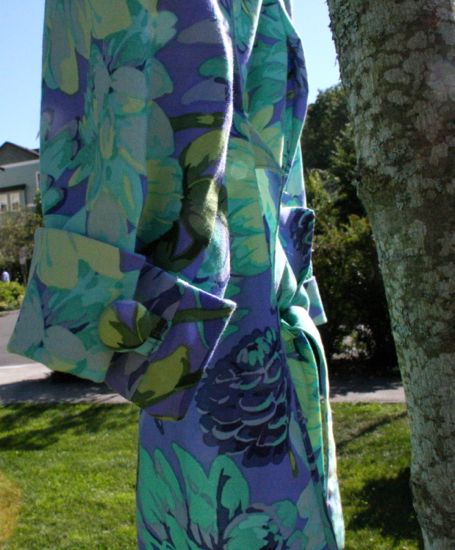 Speaking of cuffs, check out my covered buttons! These are crazy easy to do, at least if you get a covered button kit with the proper mold and pusher. I was skeptical about the buttons but I might look for other places to use covered buttons. That is, if they stay sewn on nicely. I'm just a little worried these will pop off and get lost.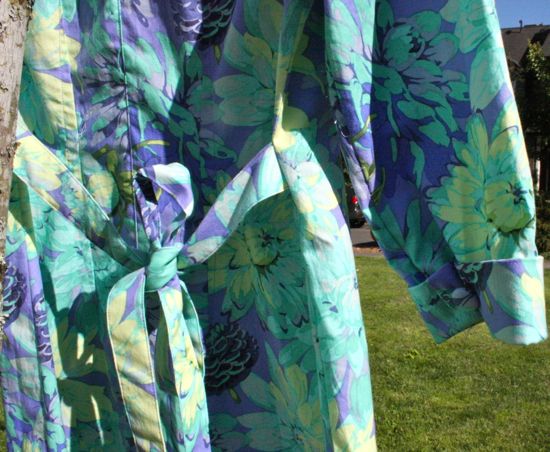 "Sounds great," you say, "but why are you showing this tunic hanging in a tree and not on you?" Two reasons: first, I should have made a muslin. I did a paper fitting with the pattern tissue but perhaps either was not thorough enough or overlooked an issue as a peculiarity of the paper. The armholes are maybe 1/4 – 1/2 inch too high (as least, I think that's the problem), so I get pinched when I wear this and try to move. It'd probably be fine if I could wear it and pretend I was a statue, but that's just not practical for me.
Second, and most disappointingly, while I love this pattern in this fabric, I don't love it on me. A while back someone came into Stash and asked for guidelines about large prints on petite people. I told her I didn't think it was the person's physical size that mattered as much as their confidence and comfort level. Did she have the personality to wear a large print? Turns out, though I'm not petite, this is too much print for me, especially as a top. Caitlyn, of course, thinks it's awesome.
I still think a tunic might be an interesting addition to my wardrobe, though, so I may very well try again. I'll need to adjust the armhole on the pattern first… I assume that if I lower them, I'll need to increase the size of the sleeve somewhat? Have any recommendations for good resources on this topic? Then I think I'll make it up in a solid or near solid and see how the overall fit and shape work for me before trying another print. You'd think I'd know by now that I should change only one detail at a time…
Save