Ah, summer! That time of year when we manically swing between "It's lovely and gorgeous, let's be outside!" and "It's hot and miserable, when will it rain?" The season for overcommiting and taking on just one more thing, trying to shove ever more activities in the every shrinking temporal space.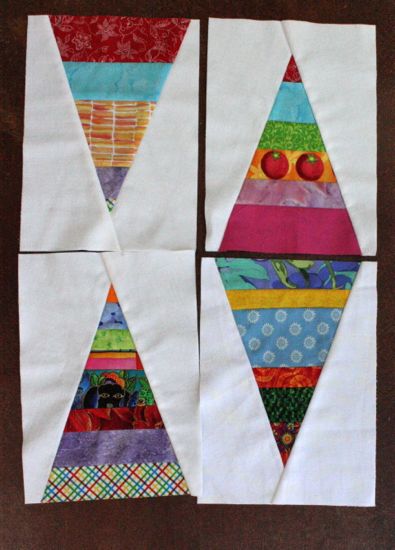 I finished and got the June blocks for Sew.Quilt.Give. into the mail at literally the last minute. We used this tutorial from Film in the Fridge. Easy blocks, which is good since I apparently am overbooked this season. The fabrics all came out of the scrap bin. I see the cuffs of Caitlyn's shorts, her new red tunic, the accent on her backpack, a drawstring bag, a veggie themed quilt and a just-finished quilt (post coming soon!)
I thought my white background fabric was a little on the thin side so I doubled up there. Maybe I'm obsessing too much, but there you have it. This is what happens when you tell me "stash-bust". Not that there's a whole lot of stashbusting that happens when you make up four 6×9 blocks.
I'm not sure I would have picked out this style of block or quilt on my own. That's the beauty of bees, I guess – the opportunity to try something you might not have gone for and maybe find a new favorite. Really looking forward to seeing the final quilt for these blocks!
Save