While digging around in my scrap box, I turned up a small collection of 60-degree diamonds in assorted batiks, mostly green and pinky-peach, with a little yellow. They might be left over from a shoulder bag I made for myself years ago (which I don't have pictures of, apparently). I had to add to them, mostly purples, and here's the end result: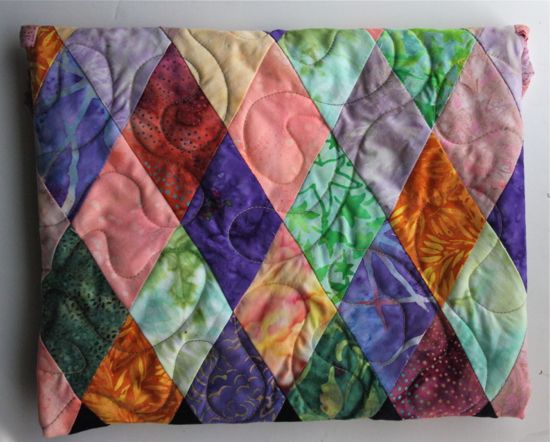 A laptop sleeve. This one is sized for an 11-inch Apple MacBook, conveniently just the size of my sister's computer.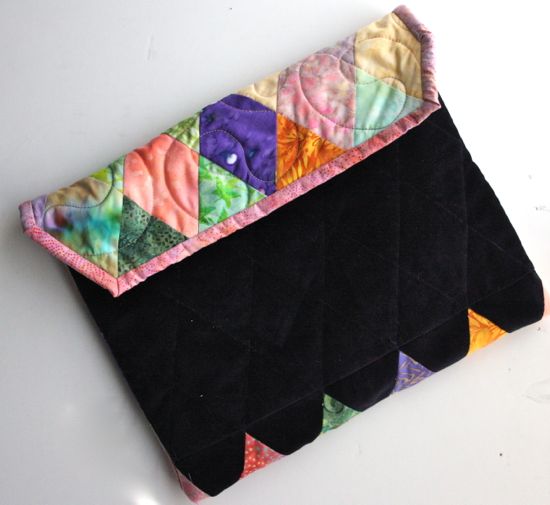 I probably could have made the flap on this side just a smidge longer. But I'm going to focus on the little diamond points at the bottom, where the batiks jut into the solid fabric. This effect just makes me smile.
The solid is also stashbusting, since I saved the 16 or so inches of fabric I trimmed off the bottom of the living room curtains 6 years ago. It's a dark blue velvet, which is fun to feel, but, wow, is it ever a pain to work with! It frays, it's not terribly straight-grained, it stretches slightly, it's slippery. Every time I sewed a batik diamond to a velvet diamond, I did it at least twice. Once the diamonds were done, even the sewing the rectangles to finish the exterior was challenging. Is velvet always this difficult to work with or is it just this particular one???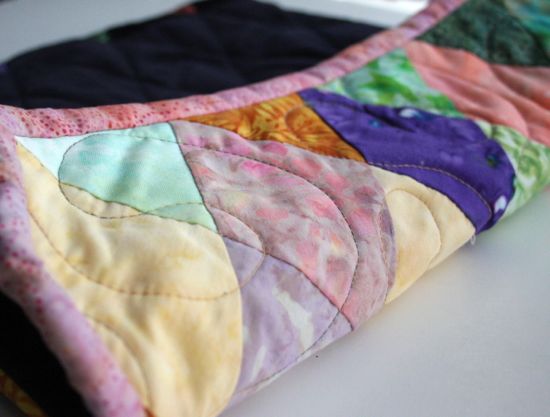 This is the third of these laptop sleeves I've made, and I'm starting to feel like I've got most of the production hiccups worked out, although I'd still like to come up with a better solution for binding where the flap meets the body of the sleeve. Maybe bind the top of the sleeve as well as the flap? Maybe if I attach the interior and exterior before doing the side seams, which I think would make the side seams exposed inside the sleeve (something else to bind)? Maybe if the interior were two pieces, which could keep the side seams unexposed in exchange for an exposed interior bottom seam?
I've got some recycled denim squares which could be pieced together into a sleeve exterior. A postage stamp design might be fun. Woven effects? Log cabins?
Clearly, I'm going to need to make some more.
Save