I know everyone has moved on to new projects (new year, new goals, new determination!), but I'm still wrapping up/catching up. I've got one last gift post and then I can move on to the Things I Didn't Do Because I Was Making Caramels post(s). By that time that's done, perhaps I'll have a post for Something New Made in January. Maybe.
Anyway,now that we've had our last holiday gift exchange, I can share this: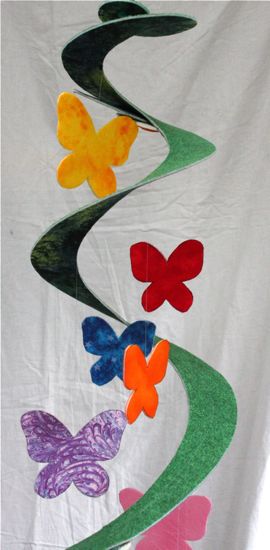 Because you can't give caramels to kids who don't have teeth yet.
I'd love to say that I came up with the idea for this butterfly mobile, but I can't. It's from Mary Link's 100+ No-Sew Fabric Crafts for Kids (page 46). I followed the directions, deviating only to add a couple of these flowers: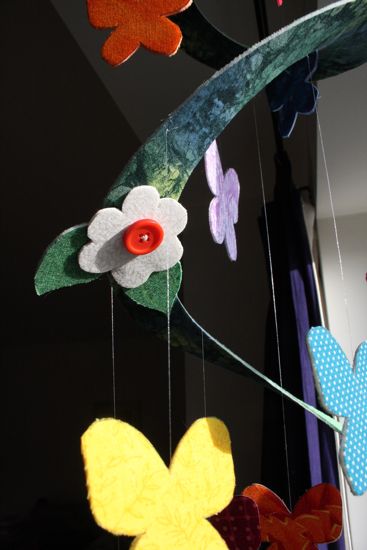 Caitlyn helped with the fabric selection and with some of the pressing/fusing. I try to get her to slow down when counting seconds by asking that she count hippopotami, which she thinks is absurd. There are no hippopotami here, Mom.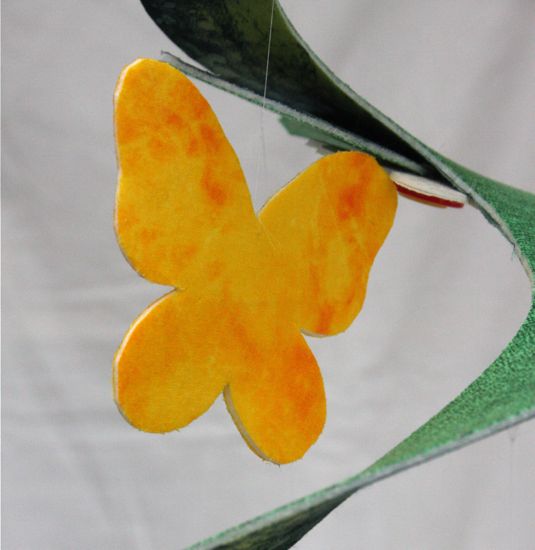 But she did enjoy delivering the mobile to her cousin, pointing out that the flowers are best viewed from directly underneath the mobile and that it should be hung just out of reach of little arms and legs.
Which shouldn't be too hard since Caitlyn's cousin isn't all that big yet. It's probably going to be a problem when she's a little older, though, since the whole mobile is not that much shorter than Caitlyn is tall. (Whoops!) Hang it from an average ceiling and anyone much taller than 4 feet is going to walk into it.
Oh, well. It should make the nighttime navigation of a child's bedroom interesting…