My fabric for the Postage Stamp Quilt Along arrived yesterday!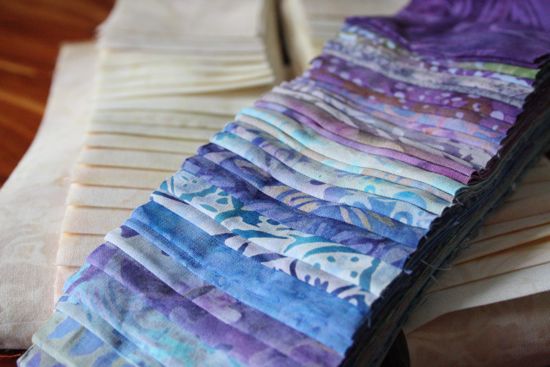 I'm going with Meringue from Timeless Treasures and Sweet Pea from Island Batik. Love batiks. Love them, love them, love them.
Despite all advise to the contrary, I spent my "creative time" this afternoon prewashing these strips. I prewash just about all fabric that comes into the house, but it gets iffy when the fabric is pre-cut. But since I'm using fabrics from two different manufacturers, I was concerned that the shrink rates would be different (in the past, when using pre-cut strips, I'd piece the strips and then wash the results before continuing – this works if all the strips are from the same manufacturer). And those rich purples… they were bound to bleed a bit. So, I grouped them by color and soaked them in warm water for 10 minutes. The purples bled, as did the blues, so I think I made the right choice.
Save